Beaverbrook Vimy Prize Blog – August 16, 2019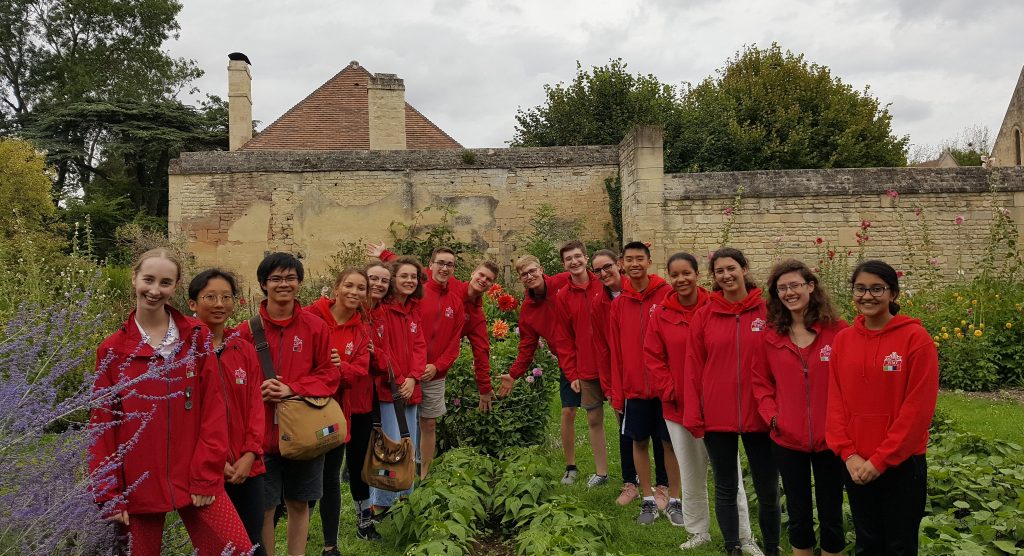 Today the students took over social media duties while transferring to the coast and visited sites such as Amiens, Bény-sur-Mer, and l'Abbaye d'Ardennes.(Please note: students will blog in their language of preference).
Un homme qui s'occupait de chevaux derrière un cimetière militaire est venu à notre rencontre. À cet instant, je ne savais pas que je recevrais un témoignage d'une immense sagesse.
Cet homme âgé dont je n'ai pas eu l'honneur de connaître le nom, son père et son grand-père avaient tout trois vécu les guerres mondiales, la propagande et l'invasion allemande. Et tout de même, dans leur famille, depuis trois générations, rien de moins que le respect est attendu de leur part face aux Allemands. Chez eux, le mot « boche » était proscrit: « Nous nous battions pour notre pays et ils se battaient pour le leur. »
Ses mots exempts de rancune, mots de guérison et de compréhension m'ont marqués et m'ont inspiré, car cet homme et son père, malgré avoir vu leur village détruit, ont priorisé leurs valeurs de respect et d'humanité. J'ai alors compris que ces choses avaient le pouvoir de survivre à la destruction. Elles permettent aussi la reconstruction nécessaire au retour du quotidien. J'ai enfin réalisé la force morale qu'il fallait pour ressortir de la guerre et son importance.
Cet homme marquant et généreux maintient la paix ambiente autour du cimetière par respect pour les pèlerins et les soldats qui y réposent, tel un gardien des valeurs de son grand-père.
-Andelina Habel-Thornton
The Amiens Cathedral is an architectural marvel. As I explored it, I understood why both the Allied forces as well as the Germans tried so hard to keep it safe during the First World War. I could see clearly why this cathedral was specifically chosen to be kept intact as many solders were religious and felt strong ties with places where they could pray for their own safety during battles. For the citizens, the cathedrals were places they could go to after the war to mourn their loved ones as well as return to a sense of normalcy. This cathedral really tied all the points from our First World War discussions together, it showed how people still moved on with their lives despite the devastation of war, and it, like other monuments, helped pass down history through generations. 
-Nathan Yee
Today we visited many fascinating places that further instilled in me a passion for maintaining the legacy and memory of fallen soldiers. Whilst visiting the stunning Beny-sur-Mer Canadian Cemetery, I found that the area created an enhanced sense of personnalisation, be it from the increasingly detailed epitaphs from loved ones, mismatched flowers in an array of colours, or pristine dog tags with photos of the soldiers slung over many headstones. This made my experience more emotive here than at the First World War cemeteries. I gained a sense that the cemetery had been carefully constructed to focus on individual commemoration, with multiple benches at the sides of the rows of headstones and a viewing platform to allow an overview of the site. It was very powerful and added a personal connection to the sometimes desensitising, endless rows of names. I felt the cemetery gave me the space to sit quietly, visualising the vibrant personalities of the many soldiers whilst being aware of how lucky we are to be present, experiencing the simplicities of nature taken too early from those killed in the Second World War.
-Lily Maguire займы онлайн без залога